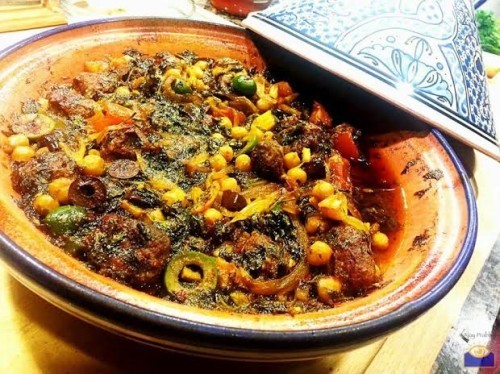 Ingredients:
1/2 c chik'n (1 inch thick pieces)
1 can chickpeas
1 c prunes
1/2 c sliced carrots
3 Myers preserved lemons (If you can't find them, try my method below to 'preserve' them!)
1 c black olives
1 c green olives
4-5 cloves garlic sliced
1.5 inch garlic coarsely chopped
1 bay leaf
2 cinnamon sticks
2 t turmeric
1 Tblsp paprika
1 sm bunch parsley
1 sm bunch coriander
Method:
It's a stew folks!! Add everything together and cook on low flame for at least and hour.
To make 'preserved' lemons. I take fresh ones, slice them thick and pan fry (yes!) them with a PINCH of brown sugar on top of one side. Make sure you reserve some coriander as a garnish….